About the Coalition
The National Coalition of 100 Black Women, Inc. (NC100BW) is a nationwide non-profit, volunteer organization dedicated to community service, leadership development and the enhancement of career opportunities for "Women of Color" to meet their diverse needs. There are approximately 7,000 members nationally spread among 60 chapters in 25 states and the District of Columbia. learn more…
Our Vision
We are an organization of progressive women of African decent whose voice and force for gender equality and socio-political advancement drives meaningful change to benefit "Women of Color".
Our Mission
NC100BW is an advocacy organization that seeks to empower "Women of Color" to achieve her full potential in areas of health, education, political action, economic development and leadership.
Upcoming Events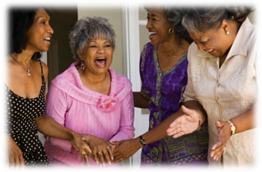 Upcoming Events!
Addressing issues that impacts the lives of African American women.
Donate
The National Coalition of 100 Black Women, Tampa Bay Chapter, Inc. is a 501 (c) 3 tax-exempt, non-partisan network of women committed to sharing, promoting and helping others achieve success.  All members are volunteers.  We rely on individual, corporate and foundation support to remain a vital and relevant part of the community we serve.
Mailing a Donation: If you would prefer to send a check to the Coalition, mail it to:
National Coalition of 100 Black Women, Inc.
Tampa Bay Chapter
P.O. Box 11981
Tampa, FL 33680-1981